Our story
Back in 2017 we began to see a rise in antisocial and risky behaviour among the young people in our community. Drug and alcohol abuse was prevalent with increasing numbers of secondary school aged children involved. We saw a lot of vandalism and arson – our young people were getting a really bad press. At the same time the general mental health of this generation seemed to be rapidly on the decline. Due to government funding cuts, the pastoral provision in our local schools had been significantly reduced, parents and young people were seeking help through schools but there seemed to be nowhere to turn locally for free and immediate help. We have two fantastic secondary schools on our doorstep with the well-being of their students at the heart of their vision and through working with them and other local organisations PHASE was born.

Why we're here
Adolescence is getting increasingly harder for lots of reasons – with all kinds of social pressures and education expectations. It's important to understand the impact these external pressures have on our young people alongside the physical changes that are taking place both hormonally and in their brain development and how this impacts on mood, behaviour, choices and relationships. We are passionate about helping both the young people we work with and help their parents / carers understand all of this and find ways to work through it together in a positive way.
It is our belief that these tricky times are in general just a 'PHASE' but also a time when both our young people and their families should be able to reach out and find help on their doorstep – PHASE exists to do just this. We are all about empowering the young people in our community to believe in themselves, to make positive choices and to raise their aspirations. Over the past three years our team of volunteers has expanded which enables us to offer mentoring support in four local settings, more specialised counselling support where needed and parenting support.
We started by setting up a stakeholders group of local support organisations so as to not reinvent the wheel but work together to identify the gaps in provision and enable more effective signposting. If one of us can't help – we can most definitely signpost you to a group that can! Working with our local Police, the Young People's Drug & Alcohol Service, Off the Record and others helped us work out what was needed. It soon became apparent that there was no local access to free mentoring, counselling or parenting support. We quickly recruited and trained a team of local volunteers who now deliver various sources of support.
Who we are
PHASE is a Community Interest Company run by a team of Voluntary Directors – Ally Budd, Marie Isles, Sarah Erskine and Neil Roberts. We have 25 plus volunteers working on our mentoring, counselling and parenting support projects.
Ally Budd founded the organisation in 2017 and also works at The Castle School as their Student Centre Manager. She has been involved in youth work in Thornbury since she was just 18 years old where she ran a small youth club in her own home for the kids on her street! Ally has qualifications in mentoring and counselling, she has a big heart for community, loves Thornbury and is passionate about enabling young people to be their best selves, reach their potential and live happy lives.
Marie Isles became a voluntary mentor with Phase in 2018 before becoming more involved as a Director and then Mentoring Coordinator. Marie has worked in the charity sector for many years, firstly as a Housing Support Worker for Homeless People and then, when qualified, as a Young Persons Counsellor for a youth charity both of these based in Suffolk. Marie says working with Phase has given her a greater window of opportunity to look at how we can support and assist not just the youth but our community as a whole, she is eager to grow and learn with the future of Phase. She brings with her a love for people and humanity.
Sarah Erskine (photo below) comes from a background of teaching in schools, colleges and community learning. Sarah has her own counselling practice, is a Support Professional for Brain Tumour Support, an Academic Mentor for degree students and delivers creative writing workshops in adult education. Sarah has always enjoyed engaging and working with young people. Her own children were square pegs in round holes at school and so she knows first-hand the challenges school life can bring, as well as the social pressures on young people. Sarah aims to help young people discover their inner strength, develop resilience and be confident and happy within themselves. Sarah is delighted to support Phase both as a counsellor and director.
Neil Roberts, Finance Director, (photo below)  is proud to be supporting and helping PHASE, even if my role is slightly removed from the brilliant and vital work that all the volunteers do with the young people of Thornbury.  I've recently joined the organisation to help keep the finances in order, something I'm very used to in my day to day work.  Not glamorous, certainly not exciting, but really important to make sure that PHASE continues to be well managed and be in as good a position as possible to continue to provide mentoring and counselling for a long time into the future.  The passion I see amongst the directors for the wellbeing of young people in the town is really inspiring.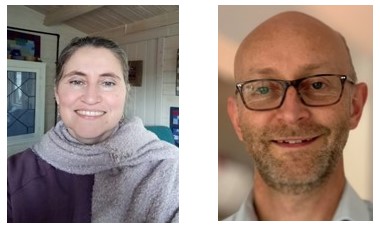 Below, Phase Directors and previous Directors, back in the summer, from top left to right Ian Walker, Craig Tucker and Selina Slater, from bottom left to right Marie Isles and Ally Budd.